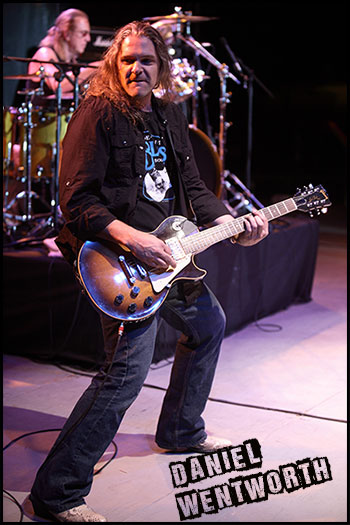 Daniel Wentworth
Birth Date: November 10, 1962
Birthplace: Lansing, Michigan, USA
Currently based out of: Ann Arbor, Michigan, USA
Played guitar since: 1976
Played guitar professionally for over 20 years, playing over 1000 gigs.
Previous Bands: Prowler, Final Notice, WLLZ's Dick the Bruiser Band, Tippsy Fluze, Sinister Grin, Soldier Soul.
Daniel Wentworth Worldwide Releases:
"Final Notice" (c.1985)
"Final Notice II" (c1989)
"Caught In A Jam" (c.1997) Daniel's first, but highly acclaimed, solo guitar instrumental album has sold in over sixty different countries.
"Daniel Wentworth" (c.2000) The blazing 12 song instrumental.
"Handz Of Danz" (c.2000) The Guitar 9 Records compilation CD featuring six guitarists named Dan, Danny, or Daniel.
"Axe To Grind" (c.2005) An instrumental CD featuring Bobby Rondinelli (Black Sabbath, Blue Oyster Cult, Rainbow) on Drums, and Danny Miranda (Queen, Blue Oyster Cult, TNT) on Bass.
"I'm On a Mission" (c.2010) Daniel's first non instrumental CD Featuring Rock Heavyweights Derek St. Holmes (Ted Nugent, Whitford/St. Holmes) on Vocals and Guitars and Roger Earl (Foghat, Savoy Brown Blues Band) on Drums.
Producer and Certified Audio Engineer: 1988 Recording Institute of Detroit Graduate
Style of Playing: Loud guitars and whammy bars
Influences: Jeff Beck, Jimi Hendrix, Joe Satriani
Equipment: PRS Guitars, Gibson Guitars, Fender Guitars, Modified Charvel Guitars, Martin Acoustic Guitars; Amplifiers include many Marshall's, Hughes and Kettner, Mesa Boogie, Peavey, Traynor, Gibson, Flotatone, Fender Bassman and Super Twin Reverb, Gallien Krueger; Various rack and floor effects.