Daniel has been finishing up the new Dolby Atmos Recording/Mixing/Post Production Facility called Spherical Sound Studios, the first such facility in the state of Michigan. The new immersive audio mixes are stunning. Preview mixes coming soon…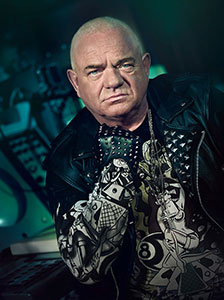 Daniel has been recording and will have an exciting new CD that will be released in 2019.  This new project will feature a plethora of talented musicians including Danny Miranda (Blue Oyster Cult, Queen, Meatloaf) on Bass and Jules Radino (Blue Oyster Cult) on drums.  Vocalists will include Georg Dolivo (Rhino Bucket), Derek St. Holmes (Whitford/St.Holmes), Keith St. John (Montrose), and featuring three songs with Germany's incredible heavy metal vocalist UDO DIRKSCHNEIDER (Accept, UDO, Dirkschneider).
Daniel has been producing the band Killer Becky's from Houston, Texas and is in the final mixing stages of the new release for the powerhouse trio. Stay tuned for release information.